Wedding Cakes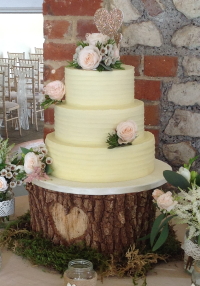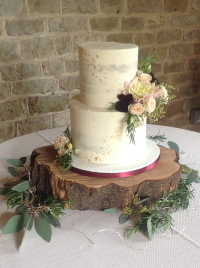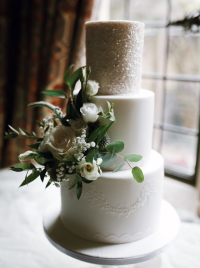 Your Perfect Wedding Cake
All of our unique luxury wedding cakes are individually designed and created just for you and the style of your wedding. Lyn provides a personal, friendly and professional service and works closely with her clients to achieve their vision. Every wedding cake is hand crafted using quality ingredients and with great attention to detail. To maintain our high standards, we aim to take on just one wedding cake a week which enables us to dedicate our time to focus on creating & designing your special cake.
We cover West Sussex, Hampshire and the surrounding areas. Consultations take place at our Studio including the best bit – tasting samples! Please see below for how to order and answers to frequently asked questions. Use our contact page to check availability for your chosen date.
Lyn's exquisite sugar flowers are all crafted by hand and can be coordinated with the theme and colour of your wedding. Alternatively, Lyn can work with your florist to use fresh flowers.
Taylor Made For You
All our wedding cakes are designed individually and our wedding cake gallery shows a selection of designs that we have made. You can choose from a selection of flavours and fillings, some of our most popular are listed below:
Classic Vanilla
Vanilla infused sponge, layered with either strawberry or raspberry preserve and gorgeous vanilla buttercream
Luscious Lemon
Lemon-infused sponge, layered with lemon curd and vanilla buttercream. Alternatively layered with raspberry and lemon curd and raspberry buttercream for our Lemon & Raspberry version
Belgian Chocolate
Belgian chocolate sponge layered with luscious chocolate buttercream (or drizzled with salted caramel sauce and layered with salted caramel buttercream). Alternatively layers of orange curd and orange buttercream for our Chocolate Orange version
Classic Coffee
Espresso coffee infused sponge layered with coffee buttercream (or zesty orange buttercream)
Belgian White Chocolate and Raspberry
Belgian white chocolate sponge layered with raspberry preserve and white chocolate buttercream
Other flavours are available – please ask if your favourite is not listed.
Please see below for more information on sizes and how to order. To enquire about your date or to arrange a free consultation call 01243 822832 or email us via our contact page We look forward to hearing from you.
How to Book
Get in Touch
It's never too early to order your wedding cake, especially for summer dates. The first step is to get in touch with us to check availability for your chosen date. You can ring 01243 822832 or use my contact page
You can give me an idea of numbers, location and style of your wedding, and the sort of cake you might require. If you have an idea on the budget you have to work with, your preferred number of tiers, and any design non-negotiables that you know you want to have (sugar flowers, edible gold leaf, particular flavours etc).
We will send through some available appointments for you to choose from to book a consultation with Lyn. This gives you the opportunity to discuss your plans for your event and any cake ideas you may already have.
Secure Your Date
If you'd like to go ahead with the creation of your deliciously stylish wedding cake, a non-refundable booking fee of £100 is required in order to secure your wedding date in my diary. The next step is to arrange an in-person consultation, where we can discuss your design and flavour combinations in more detail.
If you're not ready to book and would like to taste some samples before you decide, a sample box costs £25, and is redeemable against the cost of your cake should you go ahead. Your samples can be collected from my Studio, or can be posted to you for an extra non-refundable fee
Consultation
Consultations are arranged, by appointment, for two people at Crafty Cakes Studio in West Sussex which enables us to meet and discuss all the details of your wedding. If you are unable to visit (or due to Covid restrictions), the design process can be carried out via email/zoom.

During your consultation you will have the opportunity to taste a selection of cake flavours and we can discuss your wedding cake requirements in detail. If you have any colour samples, invitations, design themes, wedding flowers, other cake inspiration then please feel free to bring along. Don't worry if you don't know what you would like – we have years of knowledge and experience and will guide you through the process. The consultation usually lasts about an hour.
Order
Following on from the consultation we will email you a tailored quote and design sketch based on the design. More complex or unusual designs may require research and more dedication design time so please be patient. Orders are confirmed with a booking fee (unless already paid) and the final balance is due 4 weeks prior to your wedding date. Click here for a full list of our Terms and Conditions
Delivery
We will deliver and set up your cake at your venue on the morning of your wedding. We deliver to venues across West Sussex and Hampshire. It would be possible to deliver further afield but would be subject to an additional delivery charge. We can liaise with your venue/wedding planner/florist to ensure that everything runs smoothly and all details have been catered for. Your beautiful cake will be waiting for you when you walk into your reception.
Price Guide
Prices for our cakes will depend on many factors including size, design complexity, flavours, amount of sugar flowers etc. Our elegant wedding cakes start from £295 for a 2 tier and £395 for a 3 tier (Semi naked cake may cost less depending on decorations). Once we have discussed your requirement's we will email you a tailored quote. Please use our contact page to check availability for your date or if you would like a quote for something specific.
Sizes
Most people serve a finger sized portion as part of the evening celebration. Please see below for a guide on portions sizes for your wedding cake