Wedding Cakes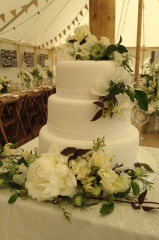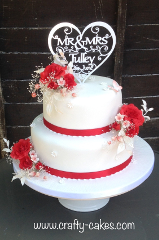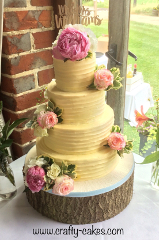 The Perfect Wedding Cake
All of our bespoke wedding cakes are individually designed to suit the colour scheme and style of your own wedding. Lyn provides a personal, friendly and professional service. Every wedding cake is hand crafted using quality ingredients and with great attention to detail. Whether you are choosing a traditional, contemporary or novelty theme, Lyn will be able to work with you to design and create your perfect wedding cake.
Lyn's exquisite sugar flowers are all crafted by hand and can be coordinated with the theme and colour of your wedding. Alternatively Lyn can work with your florist to use fresh flowers.
Hand Made To Your Wishes
The wedding cake gallery shows a selection of designs. Our Wedding Cakes can be made in different shapes and sizes and you can choose from a selection of fillings, some of which are listed below:
Rich Fruit cake with brandy
Vanilla Sponge layered with rich vanilla butter cream and raspberry preserve
Moist Chocolate cake layered with chocolate ganache
Delicious Carrot cake with fresh orange buttercream
Luscious Lemon cake layered with a lemon curd buttercream
Espresso Coffee cake with chocolate and orange zest filling

So Much More Than The Perfect Cake
To compliment your wedding Crafty Cakes also creates a delicious selection of cookies and other types of cakes that can be used as edible wedding favours or why not try our wedding cupcakes.
Please don't hesitate to call 01243 822832 or email us via our contact page to arrange a free consultation. We look forward to hearing from you.