BRAND NEW - SUGAR FLOWER SUBSCRIPTION BOX
Have you ever looked at beautiful sugar flowers on a cake and longed to be able to make them?

Or have you made a few flowers but want to improve? Well now you can!

The Sugar Flower Academy Subscription Box is crafted for both experienced decorators and budding flower creators and offers the chance to craft a new, exquisite sugar flower every month.

Each monthly box will give you everything you need to create a beautiful new sugar flower in the comfort of your own home.

Subscribers can opt for a monthly plan or commit to 3 months or 6 months in advance
WHAT'S IN THE BOX?
The Sugar Flower Box gives you everything you need to create a beautiful new sugar flower each month in the comfort of your own home:
✓ Relevant cutter, veiner, paste, wires, stamens, tape, dust to create a different flower each month.
✓ Step by step comprehensive instruction sheet to guide you.
✓ A different beautiful flower to make each month to build your knowledge and repetoire.
✓ Access to a dedicated private Facebook group to ask questions and share your creations.
✓ Demonstration in the Facebook group to watch how to make the flower & on-going support.
✓ PLUS a surprise free gift.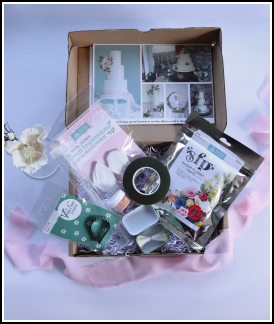 For more info click on the Subscribe button