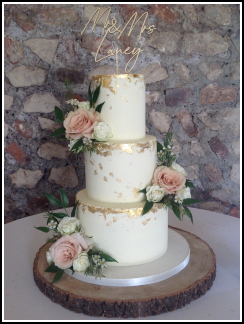 Crafty Cakes
Crafty Cakes specialises in creating unique and beautiful wedding cakes as well as celebration cakes for all occasions.
Every one of our fabulous cakes is hand crafted and made with the ultimate attention to detail. Whether you are choosing a wedding cake, or a celebration cake, you will find many designs within our picture galleries to inspire you. Each individual cake is made using quality ingredients
At Crafty Cakes we provide a personal, friendly and professional service tailored made to suit your requirements. Please don't hesitate to call 01243 822832 or email us via our contact page to arrange a free consultation.
Years of Cake Making Experience.
Crafty Cakes was established in 1999 by Lyn Cooper who is the sole proprietor and works from home in West Sussex. After attending various classes in hand wired flowers she went on to complete a two year City and Guilds course in Creative Design and Sugarcraft.
Lyn has achieved the Certificate in Education (in Post Compulsory Education) and started teaching in Adult Education 10 years ago.
She now teaches Cake Decorating and Hand Wired Sugar Flowers at Bognor Regis Community College as well as South Downs College in Havant. Lyn also teaches on a 1to1 basis and on Workshops and courses within the West Sussex (Bognor Regis/Chichester) and Hampshire area.
All Types of Cakes For All Types Of Occasions.
Lyn has always had a passion for cake decorating and has over 20 years experience of making wedding cakes, birthday cakes, novelty cakes, cupcakes and cookies. Lyn of course made her own stunning wedding cake in 2009.